Work
Featured
Jamex is a leading manufacturer of vending systems and payment solutions. With twenty years of experience, Jamex develops payment technologies that keep pace with the changing needs of the information age. Our work with Jamex includes the launch of Netpad Touch, one of their newest products, as well as trade show graphics, advertisements, and user interfaces.

NetPad Touch Logo & Naming
Details / Jamex's NetPad Touch is a network-connected copier control device featuring a touchscreen interface, a fast connection speed, and a wireless option among its features. The logo evokes the feeling of a touchpad and the hi-tech nature of the product.
Our Role / Identity Design, Naming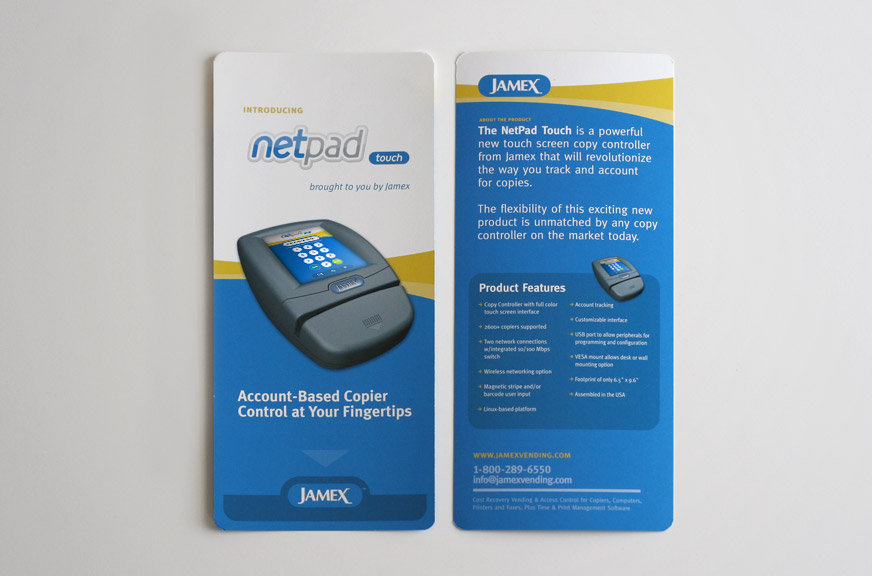 NetPad Touch Palm Cards
Details / We created a series of materials for the launch of the product including promotional cards that developed the look and feel originated with the product logo.
Our Role / Copywriting, Design, Printing
Tradeshow Graphics
Details / The trade show graphics we created for Jamex's appearance at the ITEX show in Las Vegas carried through the NetPad Touch look and introduced additional products. The artwork created an effective backdrop for their presentation and a unified look across their materials.
Our Role / Copywriting, Design, Printing
Card Reader Interface Graphics
Details / The NetPad Touch features a full color touchscreen interface. We worked with the Jamex schematics to create a simple GUI for this breakthrough payment device.
Our Role / UI Design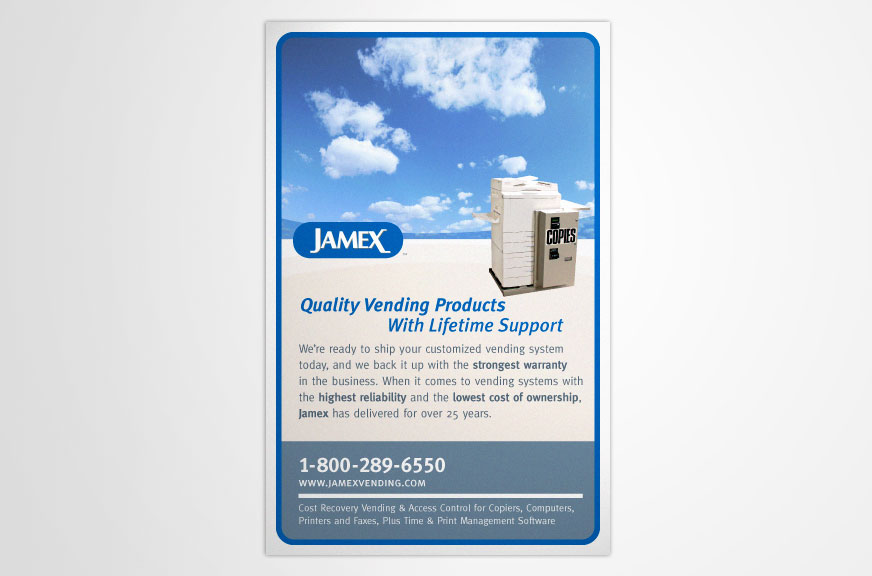 Newspaper Ad
Details / Jamex was looking to update and refresh their brand, which had not changed in many years. We put forth an updated image for the company with this advertisement which ran in several trade publications.
Our Role / Copywriting, Design