Primet Precision Materials
Work
Archived
Primet is an advanced materials company with a focus on electrode materials for lithium batteries and a deep expertise in the science of fine particles. We've worked with Primet to refresh their brand, provide art direction, and create a unified look across their marketing materials.
Logo
Details / With absolute precision, Primet's technology scales materials into sub-micron and nano-sized particles of a wide range of materials. The start-up company came to us with a black and white logo but no other materials. We worked with them to refine the logo and create other branding elements to use across their marketing communications.
Our Role / Art Direction, Logo Refresh
Stationery Package
Details / The stationery pieces use the scaling particles element along with a simple design, technical typeface, and vibrant colors that work together to communicate the hi-tech, scientific image of the company.
Our Role / Design, Printing
Company Brochure and Spec Sheets
Details / The company brochure carries through the branding elements to make for a unified look across their marketing materials. The spec sheets are an additional promotional item used by the company and we created a template which they are able to update and produce internally.
Our Role / Design, Printing
Tradeshow Graphics
Details / These striking displays were produced in both English and Japanese for a tradeshow in Japan and were effective in clearly communicating the company's message.
Our Role / Design, Development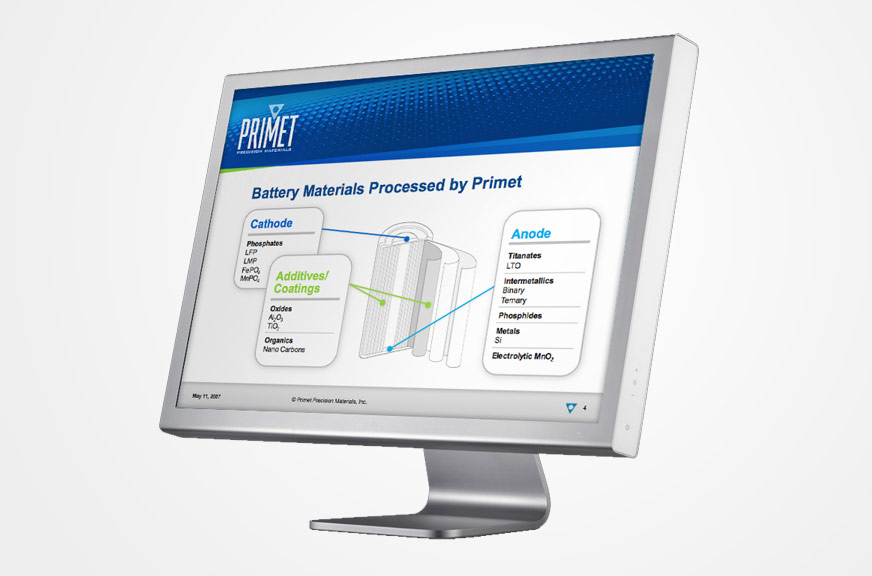 Company Presentation Templates
Details / The presentation template we created for Primet is another piece which works to put forward a strong and unified company image. From printed materials to tradeshow graphics to online presentations the image and message are consistent.
Our Role / Design, Development